Fly banner as a human friendly portable, reasonable cost advertising solution, is more & more widely used now all over the world.
While designing fly banner, which one should we choose? Single side flag or double sides? Today, we are sharing the information for the differences between single side flag & double sides flag for fly banner.
First, please find below 2flags comparison for single side flag on left hand & double side flag on the right hand in below image:
You will find that right hand double sided beach flag with darker color.
Below details for the single side flag & double sides flag comparison & differences:
1, Fly banner single side advantages:
85% Transfer Rate

Great Mobility

Minimal Color drift on reversed side

Lower cost
2, Fly banner double sides advantages:
Each side has indepandant images

Silver layer in middle to prevent washed-out images, to avoid each side transparent

Each side can with same or different advertising contents
3, Fly banner double sides disadvantages: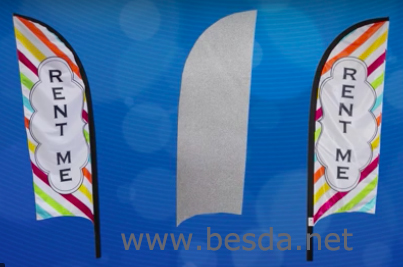 Heavier flag, less movement

Faster fabric weathering

Slight color offset

Higher cost as takes 3layers fabric & 2sides printing
After the comparison differences, normally will suggest to take single side printed fly banner will be ok, as single side will keep more movement as it is while with 85% Transfer Rate on the other side which is also nice and save production cost compared to double sides which need 3layers fabric & 2sides printing. But of course, when clients need double sides printing advertising flag, we can also produce, we will meet clients' requirement and provide you more than you expected.
For more details about beach flag, fly banner, please feel free to contact [email protected] or whatsApp: 86-13928728741.